You make it rain? I make it shimmer. Let's lock arms & be #BizBesties!
💎 WHO IS CHARITY NICOLE? 💎
Drummer chick. 💫 Star Wars girl. 💫 Avid reader. 💫 Amateur vegan chef. 💫 Wife to Josh.
💫 Crunchy mom to Valor Anakin Skywalker. (told you.) 💫 Lover of '80s movies, '90s shows and all things new wave.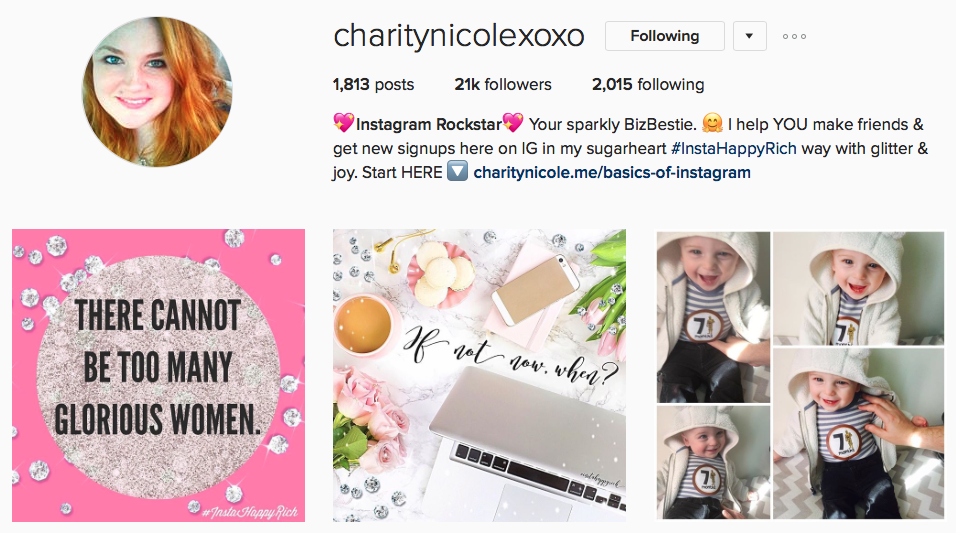 Hi, I'm Charity Nicole, THE Instagram Rockstar + Social Signup Strategist.
I want you to know that I've been where you are now… I was SICK and TIRED. Are you sick, tired, frustrated & overwhelmed in your business? I'm guessing you are and that's why you're checking out this page.
Being in business for yourself is NOT easy.
And anyone who tells you it is is blowing smoke because let me tell you, it takes a STRONG person to be an entrepreneur. We have to face challenges like no other. It's hard enough when you feel like none of your friends or family want to join your team, but secretly you feel like they're all ridiculing you just waiting for you to fail. I was determined NOT to fail.
I was GOING to win.
I was watching all these people in my company go to these astronomical ranks within months and it made me sick and mad. I wasn't jealous or wishing ill upon these people. Hey, more power to them! BUT I was angry that it wasn't me!
I felt like I was missing out.
I knew I was meant for bigger things and I didn't understand why no one was telling me the real secret to success in my business. So I made it my mission over the last few years to figure out all these secrets…
I dug deep and found out that a lot of the top network marketers & direct sellers use Instagram to build their businesses.
I started implementing the secrets about Instagram I had learned and in a short while, I was meeting AWESOME people on Instagram that connected with me, loved my posts and soon enough even became customers and teammates. It was SO exciting!

So you might wonder why I don't really focus on building my direct sales biz anymore. Well, as soon as I realized that social media coaching was like, a THING, I knew that's what I truly wanted to do with my life. But I didn't feel right just deciding and then going to do it. I was very intentional about where I spent my time & the books I read, the classes I purchased to learn this stuff… but I never purchased an Instagram class.
First of all, I don't think any existed when I started learning and secondly, I haven't found anyone to date who teaches the stuff that I do every day on Instagram and what I teach all my students. I'm so very passionate about helping others like yourself avoid the pain I felt for so long trying to make it. I can't tell you how many times I would try to take the day off, but I had 5 people wanting to talk to me about my products!
How would it make you feel to know that people are desperately waiting to talk to you, blowing up your inbox about your business?
My upline told me that I had more customers than anybody in my city & the highest closing rate she had ever seen for customers because of the way I learned to talk to people. Not only am I a network marketing professional, but I am an Instagram expert and I also know how to build an online business with internet marketing— so I am offering you a 3-pronged holistic approach: three separate things coming into one major blanket of awesomeness in this program!
I'm guessing you are here reading this because you need a change. You are sick of running on the hamster wheel and you're seeing a spark of hope in using Instagram for your business from what I'm telling you. I know that you want to make money in your business. I know you want to change lives. I know you love your products. But I also know what it's like to feel stuck. And I want you to know that I understand what that's like and I'm here to help you.
I am not going to hold back any information or secrets from you.
I don't roll like that. You can do this. It is possible.
I am here to teach you how to get a constant stream of leads coming to you EVERY day through Instagram so you don't have to waste time and energy running around giving out biz cards or trying to figure out Facebook.
This IS the fastest, easiest, cheapest way for you to build your business BAR NONE. How much MONEY will you miss out on if you don't learn this stuff NOW? How much time will you waste doing mundane tasks over and over with no real result? How many people will end up on someone else's team simply because they got there first. It could have been YOU. Please don't miss the boat on this. Please don't wait another day to start bringing in new leads every day on Instagram…