Instagram Makes All The Traditional Tactics Irrelevant
✨What if I told you that everything you THINK you know… is WRONG.
Wow, that was a bit ominous. Okay, let's back up a sec and get a tad less dramatic.
I'm not gonna say EVERYTHING you know is wrong… because clearly that can't possibly be true. Tons of things you know are true, right and awesome!
But today, I want you to question all the "traditional" tactics you've learned.
Have you ever heard this from your company:
Make a "100s List" of all your friends & family. Then send each person a message asking them to join your team or get on a company call!"
Or "ask them to buy products to help you promote!"
Or "start small talk with them, then carefully weave your business in!"
Have you ever done this? What happened when you did?
I'm guessing you probably didn't receive many responses…
And even if you did, your friends probably told you they aren't interested.
And even if they ARE interested, and they DO end up listening to your 3-way call, who says they will make a great business partner?
Hmm. If you are the entrepreneurial go-getter in your circle, trust me, you are probably the only one…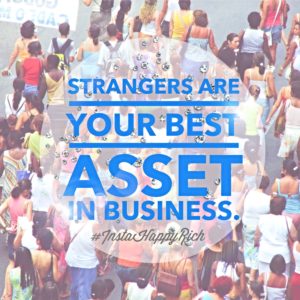 I want to help you understand something very important: Your friends & family are NOT your ideal prospect.
Which leads me to another point: Your ideal prospect is NOT everybody you run into and their mom.
If you're scrambling around, handing out coupons & biz cards to everything that walks, you're going to come up empty-handed.
Strangers are one of your best assets in business.
And Instagram is the fastest, easiest & quickest way to connect with people that are just like you: people that WANT to be successful and strive to be awesome in their life & biz every day.
Your time would be so much better served laser-targeting the people that will be ROCKSTAR teammates and awesome customers who will use your product or service and love it. Instagram is FILLED with many people who would adore your product and truly need it to get the results they've been dreaming of. You just have to find them!
Don't think that Instagram is a waste of time. It IS the future. You can bank on it. And I do NOT want you to miss the boat on this platform for one more day.
So if you haven't invested your time yet on IG? I encourage you to START TODAY. Every day that passes is one day that you could be closer to "arriving."
Now I'd love to hear from you!
Have you already started building your biz using Insta? Or do you feel stuck in the "old ways" of doing things in your direct sales biz? ? Head over to @CharityNicoleXOXO, leave a comment and tell me about your sitch. I'd love to get to know ya!
Don't worry– there's no shame in the #InstaHappyRich game! We're growing better, never bitter. We are building an amazing tribe of #InstaHappyRich entrepreneurs using Instagram to build their biz every day. Your story could be what someone else needs to read to keep going on their journey! Building a business is not easy; that's why we're all in this together!
If you have friends or a teammate who needs this today, would you be so kind to share it with them? You could be the change someone else needs in their biz!
Thanks so much in advance for commenting and sharing. You are truly Instamazing. ? Have an #InstaHappyRich day.
Hugs, hope and hashtags!
xoxo,
? Charity
You deserve to have the freedom life you're chasing after! Make small, incremental tweaks every week and you WILL get there!
✨ As always, I'm here for you to help you achieve bigger and bigger success on your journey. To get started on an excellent foot, check out ALL THE FREE GIFTS & GOODIES I made for you which will help you get followers & signups using IG starting today!
✨Ready to become a Sales Siren that makes all the prospects drool with delight over your products and clamour to be on your team? Treat yourself to some fabulous trainings & shop the BIZ BOUTIQUE today!
✨ I don't JUST teach how to post cute pictures on Instagram; I teach COMPLETE marketing systems and secrets so YOU can BE the Prospect Princess that gets ALL the peeps signed up with you! If you're ready to FINALLY receive that paycheck you've been dreaming of? Here's how to WORK WITH ME.
More posts? Comin' right up!